This insults me, and probably not for the reason most people think. I side with the plastic surgeon, who explains that many of his Asian patients who opt for double eyelid surgery (i.e. Chinese/Koreans/etc who make their eyes look larger by getting a crease artificially made in their eyelid) are not trying to look Cauasian, but just
better
. And it insults me near the end when the white news reporter makes it sound like we get this surgery because we somehow shun our race or are trying to lose our "cultural identity". Why do Cauasians get tans? Because they want to look black or Hispanic? I don't think so--they just want to look like
other Cauasians who have naturally darker skin
. And while I'm sure some Asians get eyelid surgery to look more white, just as many get eyelid surgery
because they want to look like Asians who have naturally large eyes
.
That's right. Asians with naturally large eyes. Contrary to popular media in the States, we do not all have narrow slanted eyes and flat noses. What about Thai, Vietnamese, or Philippinos? Why can't we get eyelid surgery because, I dunno, maybe we want to look more like Zhou Xun: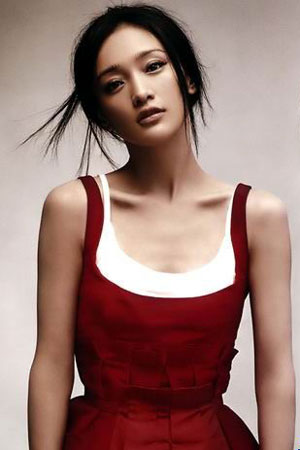 Or Zhao Wei:
or Bea Alonzo (Philippino)?:
Why can't Asian girls get eyelid surgery without people claiming that she wants to look like
this?
:
Did you know being Asian also could mean being Mongolian, which means you might be born with Chinese features but Russian-esque blue eyes and blonde hair? (Btw, this is Day's race in
Legend
, a Mongolian/Russian mix):
Or that African children can also be born with blue eyes?
And what about hapas?
I'll speak a little for Asians. Asians can live in London and speak with a British accent. We can also draw (even if it's not anime!), recite 80's hits, suck at math,
not
be in the Triads or Yakuza mafia, rock at electric guitar, hate Chinese food, flunk out of school, have no interest in martial arts, be Muslim, or be born with naturally wavy hair. (I don't hate Chinese food, btw--my mom can attest to that. :) But I
do
have naturally wavy brown hair, just like my Manchurian/Mongolian grandmother.) We don't all want to look white just because of European influences throughout history. And we don't even all have last names with one syllable. My official last name might be Lu, but through my mother's side, my last name would be Aisin-Gioro. Manchurian. Thai people have some of the longest last names I've heard, and Philippinos have Spanish last names.)
Just because you're Hispanic doesn't mean you can't speak English well. Just because you're African doesn't mean you have black or brown eyes. Just because you're Native American doesn't mean you wear feathers, speak like a philosopher of nature, and have "savage beauty". These things may occur in a race, but
they do not define a race.
When including minorities in fiction, I think writers should try to expend more effort in researching the race in question. Add something unique that's
not
typified in today's media. Do some digging. It'll pay off with richer characterization and less blatant stereotyping, even if that stereotyping was done innocuously, with good intentions.